Professional boat builders Ricardo Vicente and Joshua Herman surveyed Elvira in October 2005 and laid out the plan of the work to be done. It was decided that because Elvira had been covered with fiberglass cloth and had experienced many modifications and repairs over the years, she was not a cost effective candidate for full restoration but could be refurbished to sailing condition, which was Bob Starke's original hope. They estimated that the job would cost about $40,000. in labor and about $10,000. in materials. The Carmans River Maritime Center's Board of Trustees voted to have them begin the project which started in November 2005. Ricardo and Josh, as professional boat builders, are fast workers. And in short order they had removed all the damaged frames in the way of the cockpit, many of which were so deteriorated that, as Ricardo said, "We just vacuumed them out of the boat". They then steam bent in new frames of white oak, alternating thick ones and thin ones in the Gil Smith tradition. These were fastened with copper rivets and they went on to use stainless steel screws to refasten all the other frames that were still sound enough to remain.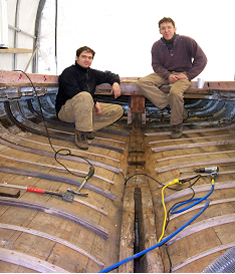 Ricardo Vicente and Joshua Herman pose
with their handiwork on Elvira

Along the way a number of discoveries were made. Elvira's planking was generally quite sound and her fiberglass 'skin' (put on with epoxy resin which was very 'high tech' for the 1950's) was still well attached to the planking and thicker and stronger than initially anticipated. On the bad news side the keel was found to quite deteriorated and had been compromised by a former engine installation. Overcoming this necessitated removal of the centerboard trunk which, along with the keel, needed replacement. Work slowed as the original funds were expended but resumed in earnest with additional grant and donation funds received in 2007-2010. That permitted the installation of the new keel and centerboard trunk, repair of the stem and construction and covering of a new deck.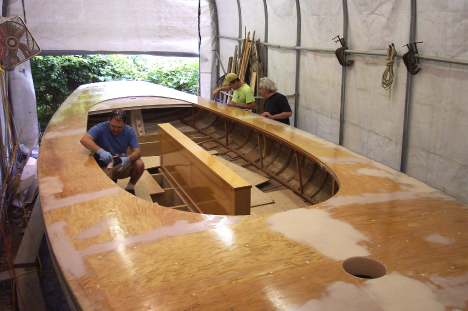 Ricardo Vicente, Josh Herman and Elliott Pepper preparing Elvira's new deck for canvassing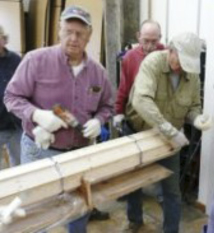 Meanwhile, under the direction of volunteer instructor Marty Sievers, an enthusiastic group of students in our Mast Building Class, constructed a new lightweight hollow mast for Elvira using the 'bird's mouth' technique.
As a tribute to her historical significance, in 2012, Elvira was placed on the New York State list of Historic Landmarks and was officially listed in the National Register of Historic Places. The Gardiner Foundation grant is designed to finish the job and have Elvira sailing for her 110th anniversary in 2016. Tasks remaining include; refinishing the interior of the hull and faring and painting the exterior, installing the coaming, toe rails, floorboards and seats, building a new centerboard, rudder, lower ballast keel, rudder post, tiller, bowsprit, day cabin, boom, gaff and jib club, re-rigging, launching, sea trials, etc., etc. It is for many of these tasks that we need volunteer help. Phone us at (631) 286-2700 or email us at info@carmansrivermaritime.org.